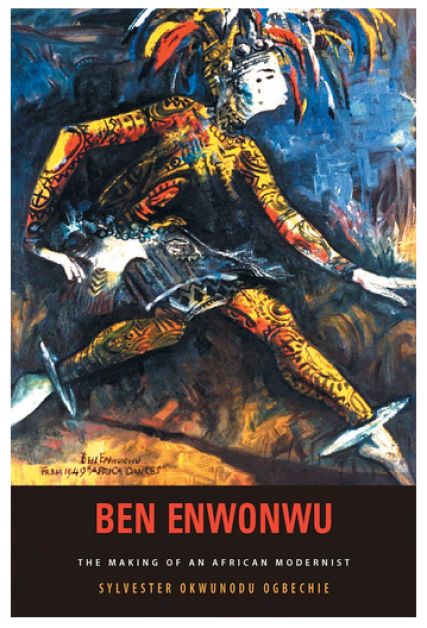 Dec 05, 2021
Title: Ben Enwonwu: The Making of an African Modernist
Author: Sylvester Okwunodu Ogbechie
Publisher: University of Rochester Press
Date: December 1, 2008
Hardcover: 333 pages
Dimensions: 15 x 23 x 2 cm
In Ben Enwonwu: The Making of an African Modernist, Sylvester Ogbechie, a professor of art history at the University of California, Santa Barbara, presents the first detailed monograph on one of the leading figures of African Artistic Modernism: Ben Enwonwu (1917-1994). In this book, more an intellectual biography than a formal analysis of his works, the author, who has studied Enwonwu for decades, tries to correct the neglect by art historians inside and outside the continent of the pioneering contribution of Enwonwu, particularly in the final years of the colonial era and the beginning of postcolonial, independent Africa. As Ogbechie clearly shows in the book, knowledge of Enwonwu's contribution is indispensable in any serious attempt to understand and situate the development of the canon of modern art in Nigeria and the whole continent.
Though focusing on the life, works and legacy of Ben Enwonwu, the book goes beyond its subject and delves into much broader issues. Questioning the idea of the so-called "alternative modernities", he is particularly interested in the location of African Modernism within a global Modernism. In Ogbechie's view, Enwonwu represents a great example of the way Western and African—or, more broadly, non-western—modernisms influenced each other. He questions the assumption that African modernists are only produced works that were derivative of those of European modernist artists.
The book is divided into six chapters: "Making Man", Making Meaning", "Making a Life", "Making Ideals", "Making Peace" and "Making History". In it, Ogbechie "situates the artist historically and interprets his work in ways that surpass traditional discourse around the canon of modern art". The author explores the way Enwonwu made use of the philosophical and political ideas of Negritude, Pan-Africanism and Nigerian Nationalism and the significant influence they had on Enwonwu's works and life. The book shows how these ideas, united to his deep understanding of Igbo traditional beliefs and material and artistic culture, led to the creation of a vast oeuvre spanning more than five decades of intense work.
In 2009, Ben Enwonwu: The Making of an African Modernist was the winner of the Herskovits Prize, an annual award given by the African Studies Association to the best scholarly book on Africa published during the previous year.
"This is an essential book for anyone interested in African art and modernism". Janet L. Stanley, Warren M. Robbins Library, National Museum of African Art. Washington DC.
"An absorbing and critically informed account of the career of a major African modernist. In turn lionized and ignored in British and American art circles, Enwonwu's career serves as a primer on the West's reluctance to accept the validity of African modernisms on their own terms.", Sidney L. Kasfir, Emory University.
"A landmark work. The scholarship is superb. … The book is a seminal work that will stimulate numerous dissertations and monographs on modern African art and artists." H-NET REVIEWS, April 2010
Dr. Jess Castelotte
Museum Director