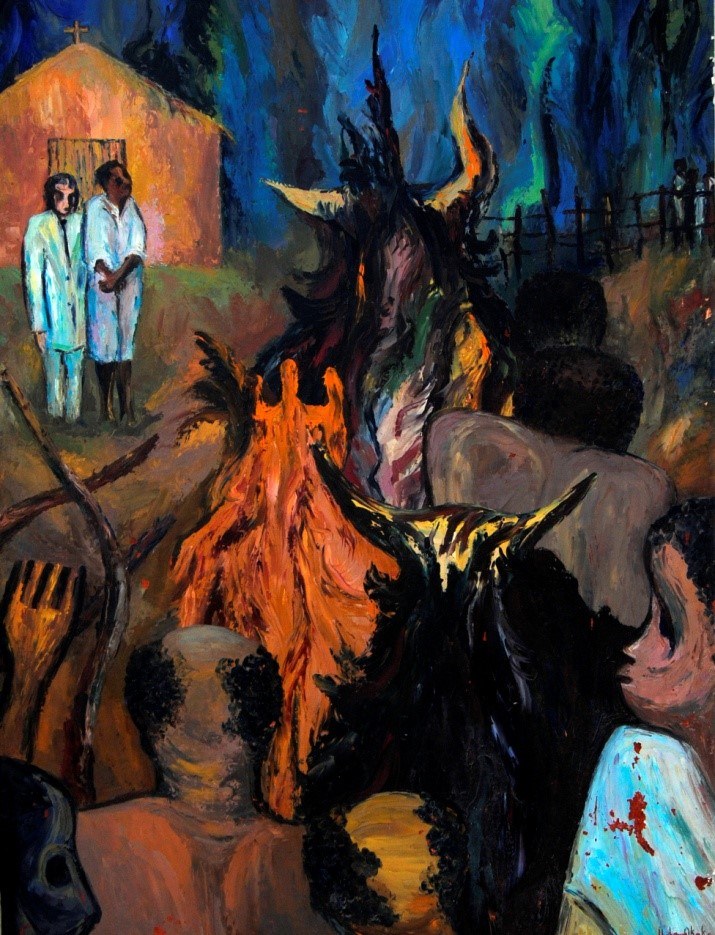 Sep 29, 2020
Uche Okeke (1933 – 2016) is one of Nigeria's most celebrated artists; ten of his works are currently housed at the Yemisi Shyllon Museum of Art. One of which is an oil painting that he produced in 1965 titled 'Conflict (After Achebe)'. He was born in 1933 in Anambra state and encouraged by his artistic mother, Uche Okeke, from an early age, was very interested in Art. He learnt the basics of 'Uli', a popular form of painting amongst the Igbos that focused on body and walls. He later advanced his studies to study Fine Arts gaining admission at the Nigerian College of Arts, Science and Technology in Zaria in 1958.

He founded the Zaria Art Society with some of his colleagues which are Yusuf Grillo, Simon Okeke and Jimoh Akolo amongst others. Together they embarked on a retrospective tour of their indigenous cultures and worked to find a way to enable a fusion of the two with the western techniques they were taught. Uche Okeke called this fusion 'Natural Synthesis'.

Later on in his career as an artist, Uche Okeke depicted a scene from Chinua Achebe's novel 'Things Fall Apart', which was published two years before Nigeria's independence. Chinua Achebe used his novel to confront the complexities of the colonial encounter within the Nigerian society. A British artist David Carabine had made the first illustrations for the novel in 1958 and when Uche Okeke made the illustration for the second edition of the novel in 1962 there was an obvious difference. Uche Okeke's visual language and the literary language of Chinua Achebe had a synergy as they shared a common ideological vision for the way arts should develop in post-colonial Africa. The first illustration had been made with ink and pen drawings but three years after this Uche Okeke created the oil painting which he titled 'Conflict (After Achebe)'.

To learn more about this artworks, its representation and the story behind it, click on the link below to download and read.