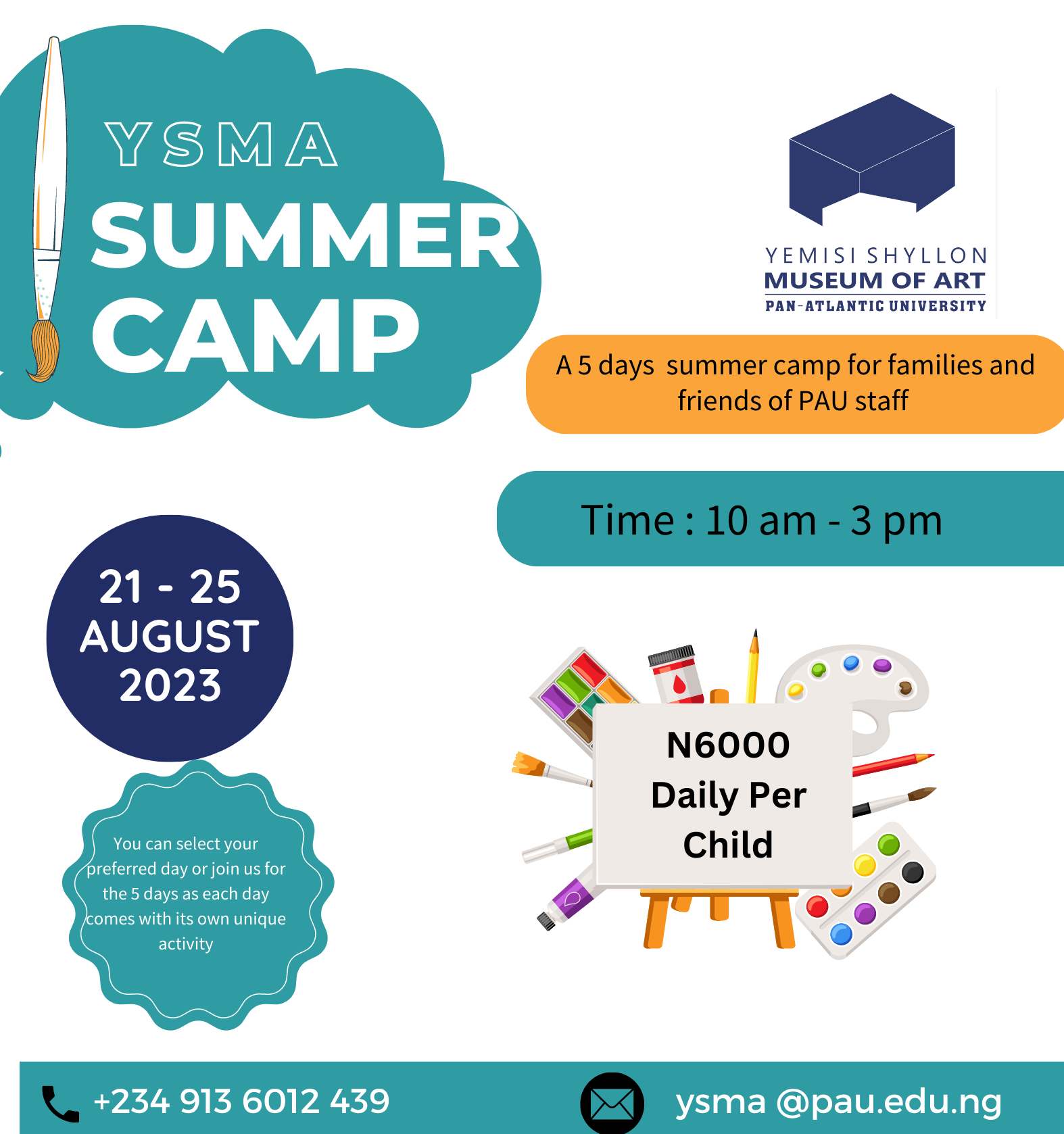 Nov 29, 2023
The Yemisi Shyllon Museum of Art is organizing a 5-day Summer Camp for families and friends of the Pan-Atlantic University community, designed to provide a stimulating and enriching experience for our children.
Through this Camp, your children/wards will have the opportunity to explore YSMA and its impressive collection. Through interactive tours and engaging activities, they will gain a deeper appreciation for various forms of art and learn about different artists and art movements.
Our camp aims to nurture your child's creative and critical thinking skills. They will participate in hands-on art projects and workshops, guided by experienced instructors who will encourage their artistic expression and help them develop new techniques. By experimenting with different art mediums, your child will enhance their artistic abilities while fostering their imagination and originality.
In addition to the artistic aspect, our camp emphasizes the importance of community and values. Located in the vibrant PAU community, our camp provides a unique opportunity for your child to experience its welcoming atmosphere and learn more about its values. They will engage in team-building activities, where they will learn and appreciate the values of leadership, teamwork, patriotism, service, and more. These experiences will empower them to become responsible and compassionate individuals.
The Summer Art Camp also encourages networking and friendship-building. Your child will have the chance to connect with other young individuals who share their passion for art and creativity. Through group activities, collaborative projects, and interactive sessions, they will forge new friendships and create lasting memories.
The camp will feature a variety of exciting activities on each day of the camp, and you can select the specific days you'd like your child to participate or even have them attend all 5 days.

DAILY ACTIVITIES:
MONDAY - ABC's of Art/Masterclass on Drawing
TUESDAY _ Art & Environment/Collage Making Workshop
WEDNESDAY - History of Benin Art & Civilization / Mask Making Workshop
THURSDAY - Symbols in West African Art / Painting Workshop
FRIDAY - Art of the Igbos / Face Painting & Design
Date - August 21-25, 2023
Time - 10 am - 3 pm daily

REGISTRATION FEE:
N6000 daily per child (exclusive of lunch).
Lunch will be provided on request for an additional fee of N2,000 daily.

Click here to complete the registration form and secure a spot for your child.
We look forward to welcoming your child to our Summer Art Camp and providing them with an inspiring and enriching experience. Should you have any questions or require further information, please do not hesitate to contact us at +2349136012439 or ysma@pau.edu.ng.