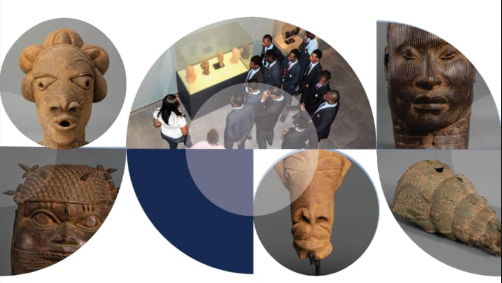 Mar 07, 2020
CLASS: Grade 10-12 (SS1-3)
NUMBER: 25
FEE:
₦6,000 per participant (without lunch)
₦8,000 per participant (with lunch)
CORE SUBJECT : History
ARTWORKS FOR LEARNING:
Igbo-Ukwu
Nok Art
Ife Art
Benin Art
The Yemisi Shyllon Museum of Art (YSMA) of Pan-Atlantic University is an educational museum at the service of the university and the whole community. At the centre of YSMA's mission is a desire to help audiences learn about art through art. Our educational programmes are a central component to achieving this objective. We believe that artworks, besides allowing viewers to experience multiple forms of beauty, meaning and skill, can also be an excellent educational resource to help persons of all ages engage, discover and learn about the history and culture of Nigeria.
With this aim of teaching history through art, YSMA has designed a full-day program (10:00 am to 3:00 pm) for secondary school students, titled "Precolonial Societies in Nigeria". The programme will be museum-based and will use "object-based learning" methodologies. Using, as a starting point, artworks from Ife, Nok, Igbo-Ukwu and Benin currently on display at the Museum, participants in the programme will be able to learn about four significant historical events, periods and social systems that have shaped the cultural and societal heritage of Nigeria as we know it today. Learners will relive history in a different environment from the classroom and will discover how art can capture moments of life in time.
The programme involves a tour of the museum, with focus on artworks from the four selected cultures and societies, plus an interactive class on each of them. In addition to the activities of the programme at the museum, printed and digital resources will be freely accessible for the participants.
Transportation expenses are not included in the entrance fees. The cost of transportation will be taken care of by the participating schools. In line with its policy of facilitating access to the museum to its neighbouring communities, YSMA will support by offering free entrance and assisting with the logistics of local public schools participating in the programme.
For further enquiries, you can contact us via ysma@pau.edu.ng or call 08156236355/09035903716.