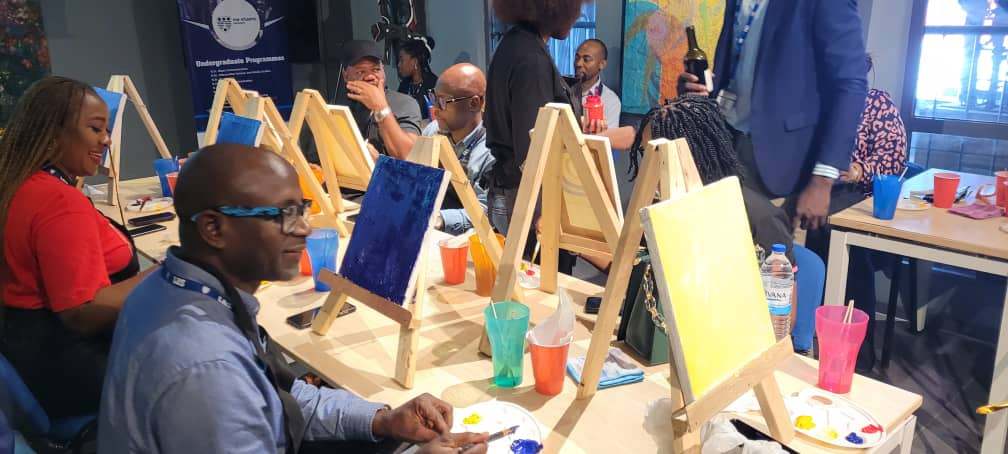 Nov 29, 2023
The Yemisi Shyllon Museum of Art hosted the Lagos Business School (LBS), Pan-Atlantic University Class of 2013 reunion on Friday 23rd June 2023. It was an occasion filled with laughter, nostalgia, and a vibrant celebration of friendships forged during their time at LBS.
The event offered diverse activities, ensuring everyone found something enjoyable. From sip n' paint to tie and dye, collaborative collage, outdoor games, and a guided tour of the museum, the day was packed with delightful moments that will forever be cherished by the attendees.
The event started with a tour of the university and a welcome speech from Professor Chantal Epie and the museum manager Mr. Michael Osaghele.
The sip n' paint group kicked off with a burst of creativity, with brushes in hand and paint palettes ready, guided by the museum's skilled instructors, they explored their artistic prowess and brought their imaginations to life on canvasses while the tie and dye group experimented with different folding techniques and vivid dyes to transform plain white garments into unique, personalized works of art. Laughter filled the air as old memories were shared while creating beautiful masterpieces together. The day culminated with a guided tour of the museum, led by our knowledgeable tour guide who shared fascinating stories and narratives of the works in our space.
The reunion was a resounding success, leaving attendees with a profound sense of nostalgia and gratitude.