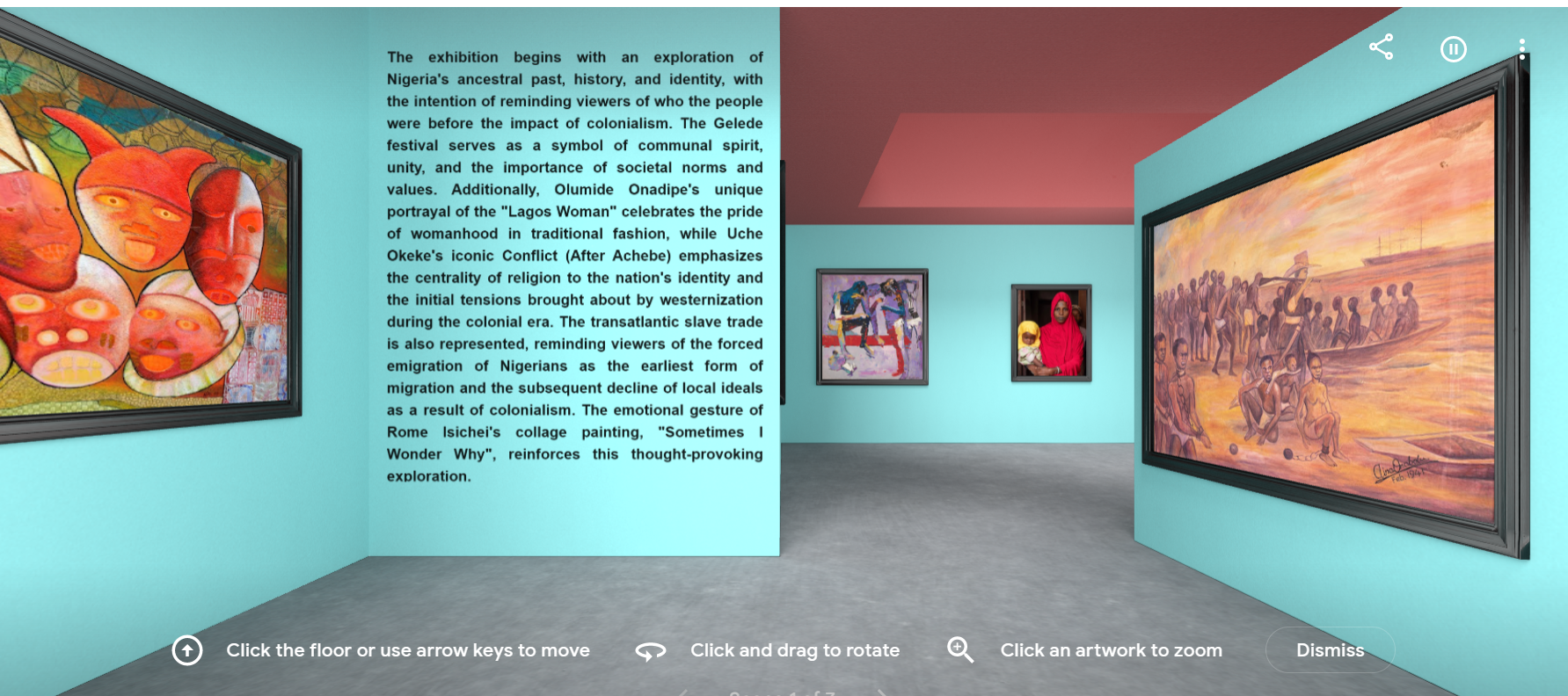 Nov 29, 2023

The Yemisi Shyllon Museum of Art in Partnership with Google Arts and Culture celebrates International Museum Day by sharing a new virtual Pocket Gallery/Exhibition 'Foundation of Contemporary Art in Nigeria (FOCAN) alongside the ongoing exhibition 'Water Under the Bridge'(WUTB).
The exhibition, Foundation of Contemporary Art: Delving into Nigeria's Art History is about the founding contemporary artists and their works. It examines their impact and contributions to the art world, as well as how they paved the road for future artists. Jessica Nzewanta and Ebubechi Nwokoma curated the exhibition, which includes pieces by Aina Onabolu - Northern Setting, Akinola Lasekan - Emir in Council, Eke Okegbulu - Atilogwu Dancers, and others.
Water Under the Bridge: An Exploration of Migration and Memory sets the tone for lives that have been driven into a modern-day exodus while addressing concerns of migration, memory, identity struggles, a sense of displacement, and, at times, regret. The exhibition, which was originally curated by Olufisayo Bakare, was put together for the Pocket Gallery by Solomon Nkwagu and Glory Okwara and includes works by Uchay Joel Chima - Human Resources, Aina Onabolu - Slaves Awaiting Shipment, Ken Nwadiogbu - Jesus of Lubeck and many more all in the YSMA collection.
The purpose of this partnership is to bring our exhibitions closer to our audience in 3D format and increase visibility. The virtual Pocket Gallery is viewable on desktop and mobile devices, and it includes audio that details the pieces and guides people through the highlights of the exhibition for easy exploration.
To view the pocket gallery, download the Google Art & Culture app for Android or iOS, or click on this link for FOCAN and this link for WUTB for immediate access to the galleries.